VIDEO: Moments that Matter – Is the Hell of Christian Tradition Taught in the Bible? (Part III)
Subscribe at ChristianQuestions.com/youtube and never miss a new video!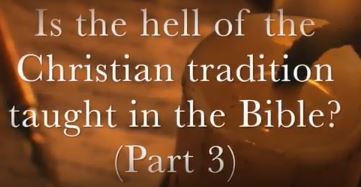 (AUDIO RECORDING OF THIS PROGRAM WILL BE AVAILABLE SOON)
Theme Scripture: w4141zNhVf4
We had an outpouring of response to Parts I and II of this series. In Part III of the podcast, we directly explain some difficult Scriptures that at first glance seem to support a burning, eternal hellfire. Watch this short vlog and then grab your Bible and listen to the full podcast of the same name.
Continue Reading