Sign up for our weekly newsletter here (or simply text the word CQREWIND to 22828) to receive the CQ Rewind Show Notes as soon as they become available. This is a completely FREE weekly service with no obligation. You can unsubscribe to the newsletter at any time. Christian Questions takes the privacy of our website visitors very seriously. We never sell or share any information collected to third parties for email marketing solicitation.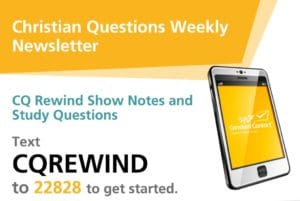 TO VIEW THE REWINDS for podcasts starting in January 2010 to present:
1. Click "ARCHIVES" in the grey navigation bar above.
2. Click on the topic that interests you.
3. Scroll down on that Episode Page and click the CQ Rewind Show Notes button.

CQ Rewind is a written transcript for you to visually follow along our weekly podcasts.  It includes comprehensive excerpts from the program, fully quoted Scriptures, graphics, illustrations, and even extra study points and bonus material that time prevented us from covering during the live program. Use the Rewinds for your own Bible study. Rewinds can also be accessed through our free CQ App.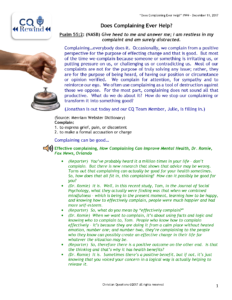 Download Sample CQ Rewind Show Notes: "Does Complaining Ever Help?"
Podcast: Play in new window | Download