Making this weekly program happen entails a lot of effort from a lot of people. The entire Christian Questions team – our IT staff, our Rewind staff, our Facebook and Twitter team – even Rick and Jonathan – ALL work on a 100% volunteer basis. Simply put, this means we do what we do because we love to do it and really believe in it!  We consider it one of the greatest privileges of our lives to speak to you from the heart each week about the most important subject of our lives – the Bible and the Gospel of Jesus.
There are MANY ways that you as a listener can help us with our mission.  Consider the following: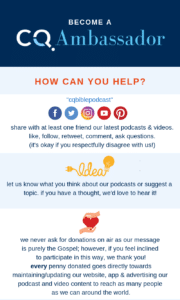 Donations can be made in the amount of your choice
or consider setting up a monthly donation.
Donations via US Postal Service
can be made by sending a check to:
Christian Questions, P.O. Box 1837, New London, CT 06320
Christian Questions is a 501(c)(3) not for profit corporation.
Your donation may be tax deductible
(consult the IRS or your tax advisor for details).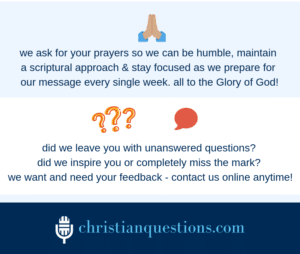 Podcast: Play in new window | Download